School Cinema
School Cinema is one such initiative taken by team ASPAM Scottish to introduce universal values of care, compassion, patriotism, truth, integrity, honesty to the students. The reflections so derived out of world best children's cinema help in laying a solid foundation based on a globally acceptable value system. The worksheets devised for reflections are collaboratively worked upon by the parents, teachers and students to put across the value caught.
STEM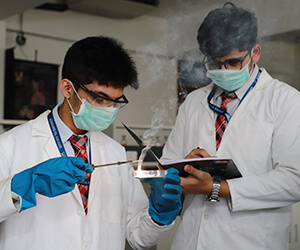 An interdisciplinary and applied approach integrating Science, technology, Engineering and Mathematics to develop scientific and analytical skills is disseminated through STEM. It integrates into a cohesive learning paradigm based on real world applications.
Abacus
Abacus is the scientific means to increase mental capability of students. Abacus classes at ASPAM offer a specialized course that is proven as a "Brain Development Program" for children. We have chosen this way of Mathematical learning because abacus is a boon for kids as it enables them not only to learn to do mental math but also to utilize all functions of both left and right brain. The activity and task sheets are very scientifically designed and administered so as to develop concentration, thinking and observance abilities in students. Rigorous Abacus practice sessions support ASPAMians to tackle a particular composite sum by logical application of mind.
3D Printing
3D Printing Lab is in pipeline. It will facilitate students' understanding of technology based on 3 D printing. It will also enhance their digital creativity.
Robotics
As a part of beyond books curriculum, ASPAM has introduced Robotics. The topics are well designed to enable students to connect the knowledge and learning in Science, Technology, Engineering, and Math (STEM) and Computer Science subjects with real life problems and teachings in the class. Students gain appreciation about the growing importance of all pervading technology and how it is substituting humans and replicating human actions.
Students also gain valuable knowledge and skills in areas such as computer design, 3D printing and programming. The subject also exposes the students to interdisciplinary branch of engineering and science that includes mechanical, electronic, information technology, computer science and thereby, developing their interest early in life.
Reflective Corners
We at ASPAM believe that connecting to ourselves from within will give us time to introspect. It will also suggest how we can improve ourselves better for our own well-being. Inner quiet is much needed as we live in an increasingly busy and demanding world and our students too feel the same, so we have introduced 'Reflective Corners' for our students so that they may have the additional experience of having a moment to themselves. This means that being quiet and stopping to think may be challenging, even uncomfortable, for some children but we give our students the opportunity and gift to be still. By providing reflective corners in school, we encourage our students to enjoy just being true to self and understand the power of quite introspection. The students are encouraged to ask big questions and seek answers to develop a sense of wonder about the universe, to explore the dimensions of the inner self.
Cultural Activities
A plethora of cultural activities held in the school exposes students to varied fields. It also assists students to develop themselves in desired arenas and to improvise on their personalities. Skills such as organizational, leadership, interpersonal and performing arts are focused through these activities.