FROM THE DESK OF EXECUTIVE PRINCIPAL Ms. Meenakshi Zarabi
'Children are the priority; change is the reality and collaboration is the strategy.'
Principal Message
Dear Parent(s)
Greetings!
ASPAM Scottish acknowledges the support of parents during these 2 years when we were faced with pandemic. Although the threat is still not over but during these two year we have been able to attain a few positives and one such positive is that have been successful in creating a 'connect' between home and school and it is our strong bond that makes us a great community of learners.
Even during the COVID times, we at ASPAM Scottish ensured that the students do not face the 'learning gaps', Consequently we introduced many online learning tools, inquiry and research based projects, flip classes and personalised learning facilitated experiential learning. The online classes have most certainly developed IT skills of students as the students are not only doing their research based projects online but also submission of assignments and assessments is done through digital platform. Skill based education as per NEP was also incorporated and skill based subjects as Handicrafts, Financial Literacy, Media, Commercial Art, Introduction to Financial Market, Entrepreneurial have been introduced as these subjects will not only hone skills of our students but will also open global vistas for them.
Our foreign collaboration with the 'hubs of learning' is yet another significant step towards universalization of education. Our core focus is SDG (Sustainable Development Goals) and 21st century skills. We have initiated incorporation of SDG in our student development programmes but in the next session will be weaving our co-scholastic calendar (activities, assemblies and all school events) around SDG and 21st century skills of creative and critical thinking, problem solving, technology and digital literacy, global awareness, self -direction, social responsibility and innovative skills as these will equip our students with a nuanced set of skills that can make them career ready.
Nowadays in particular it is imperative to acquire 'holistic health' and we plan to give equal impetus to it by sensitizing our students on the essentials of holistic health inclusive of nutritive food, good exercise regime, kid fit programme and participation in multi -level sports events both indoors and outdoors.
Student Engagements are a core part of continuous holistic development programme for our students and are undertaken across all grades. Recently the students of senior wing participated in Education Fair at Cambridge School, Noida. They also keenly participated in virtual session organised by foreign universities of UK & Ireland, The USA, Hospitality Education Day, Swiss Education Group besides participation in workshop for Cyber safety and security, Peers Education Leadership Programme, visit to Old Age Home as part of CSR activity and other workshops that are organised on need basis.
Although we have customised our Montessori curriculum yet it is exclusively based on ECC tenet of Maria Montessori and Jean Piaget as these formative years have a significant life-long effect on children as they are exposed to the social values of giving and sharing, effective communication and life skills.
ASPAM Scottish School constantly strives for attaining all-inclusive development programmes for its students as these programmes cater not only to individual students but it are also age appropriate and multi-disciplinary.
We have always found support in our distinguished parents and we solicit your support once again for a progressive partnership for comprehensive development of our children.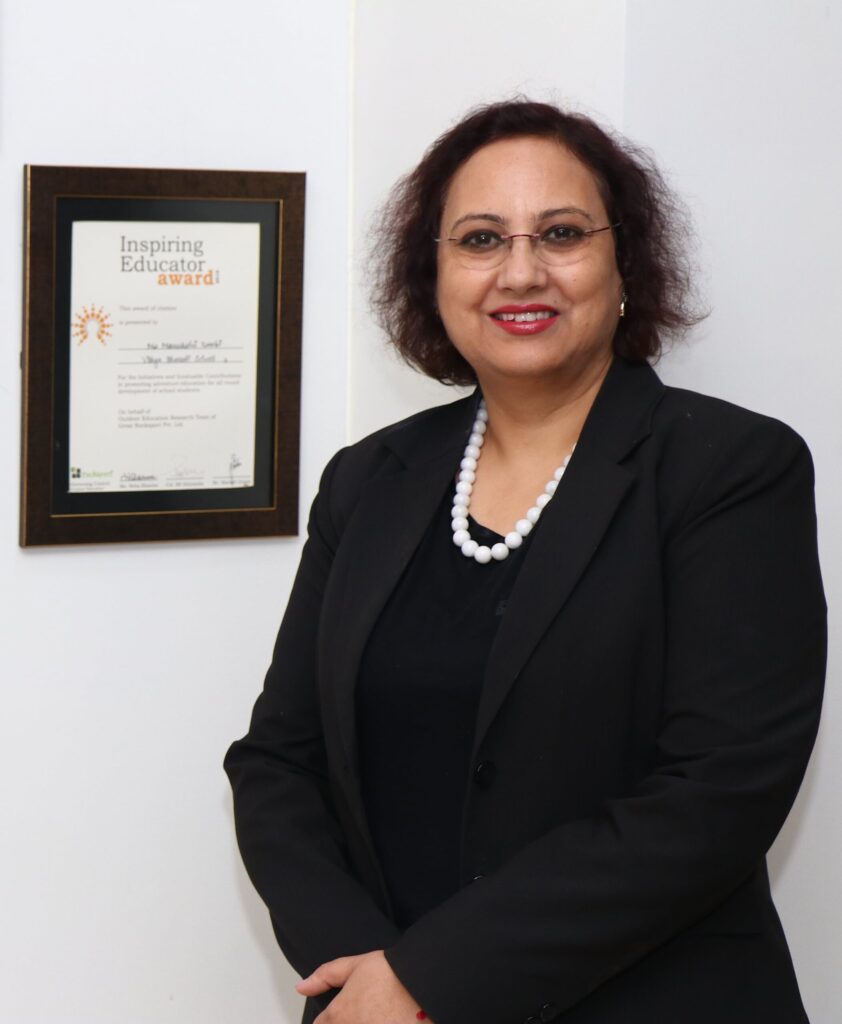 The year is about to come to an end and a new beginning is visible at the horizon, a fresh beginning of hopes, peace, good health, rejuvenation and best wishes. At the onset of the New Year, here's wishing you a very happy New Year and hope that the New Year brings lots of new and exciting opportunities in our lives. Happy New Year!!
God bless us all!!
Meenakshi Zarabi
Executive Principal